Why Choose Us to Create Your New Studio Website?


Have you had a frustrating experience with a website designer who didn't have a clue about the dance world? Have you struggled to understand what the haaay they're talking about because they're using too much tech lingo?
That's not us!! We have strong backgrounds in dance AND are very comfortable with tech talk. Many of our studio-owning clients want an effective website but don't give a rip about the tech world, and that suits us just fine.

We take the website tech stuff off your hands, so you get all the digital goodness with next to no learning curve.
What we WON'T say:

"We maximize mission-critical initiatives through synergistic interfaces and end-to-end frictionless vortals."
(What the whaaaat?)

What we WILL say:

"Let's use smart calls-to-action on your new website to bring more dancers into your studio. Here are a couple of suggestions."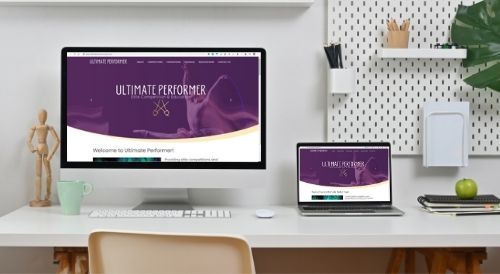 Simply put, we're a web design and marketing company who understands the specific needs of dance studio owners. Your dance studio's website will be designed by someone with a strong background in the performing arts and the teaching of dance, as well as many years of experience in website design.
We're friendly to work with and sincerely look forward to helping you showcase your studio with a fantastic new website!


Here is a list of the services we provide:
Design
Marketing
Hosting & Maintenance
Web Hosting
We have over a dozen years of experience in providing hosting and website management. Our websites have an uptime 99.9%, to ensure your website is available when it counts!
We take care of creating, configuring and managing your hosting account so you don't need to worry about understanding all the technical details.
Email Addresses
Each website includes up to 10 personalized domain based emails. Support is available for setting up email in all popular devices and software applications.
You can get your email anywhere you are connected by using your hosted webmail, and spam and email filtering is included with all email accounts. Email forwarding is available for all email accounts.
Content Management System
Tired of waiting for someone else to do your website changes? Our 'Simple2Edit' service is a content management system that allows you to make your own website changes once your new dance studio site has been launched. It's our most popular service, and is (as the name implies), simple to use.
Website Maintenance and Modification
If you don't have the time, energy, or desire to make your own website changes, we're happy to do them for you. Our turnaround time is (almost always) within 1 business day. We offer monthly '3 or 5 changes per month' plans, as well as a 'Pay as you need it' option.
Domain Name Services
Do you already have a domain name (website address) for your dance studio? That's perfectly fine. As long as you have the login information for your domain name company, we can use your existing website address for your new studio site. If you don't have a domain name, we're happy to brainstorm with you to come up with the perfect name, and then we can secure and manage it for you if you would like.
Studio of Dance.com provides all of the services your website will need in-house. This bundling saves you money in web hosting and maintenance as compared to purchasing them separately, while ensuring a well-run, consistently current dance studio website.
We've designed well over 200 studio websites all over the US and beyond. It is our niche, what we love to do, and is what makes us different.
Would you like to join our Studio of Dance.com family of Extraordinary Studio Owners?